About Dave
As a resident since 1985 I have lived and worked across the local region
Your Real Estate Specialist
Dave Swartzbaugh is a trusted and leading realtor who has represented buyers and sellers throughout the large Northern Virginia marketplace since 2001. Dave's attention to detail, market knowledge, honesty and sense of humor has earned him the respect of his peers and loyalty of his clients.
Dave was nicknamed "AgentDave" years ago from clients due to his tenacious style of showing and selling homes. Often working as a Buyer's agent early on, he would try his best to estimate the age of various mechanicals like the water heater or appliances, type of siding, how well the yard is graded, condition of wood trim, etc., bringing real value and insight to his client's experience. The nickname stuck and continued to be useful as his business grew into listing more homes year after year. At the first walk through with Sellers, he points out any attention needed for repair or improvement to help his sellers get their house ready for market. If possible, he recommends addressing issues ahead of time to help market the home successfully and keep the transaction on track.
Dave has lived and worked in Loudoun, Fairfax, Alexandria and Arlington since 1985. Now living in Reston with his wife and five daughters (yep! five daughters!), he enjoys watching his girls swim competitively, play soccer, ballet, & of course spending time with family and friends.
Education
– Graduate of The College of William & Mary, class of 2000
– Broad Run High School, Ashburn, VA
Recent Achievements
NVAR Top Producer / Sales Volume:
– 2021: 17 million
– 2020: 9.5 million
– 2019: 12 million
– 2018: 10 million
– 2017: 13 million
– 2003-1016: Various Club Levels
Business Experience
– Licensed Real Estate Associate Broker specializing in all types of NOVA residential property transactions
– Assistant Managing Broker of Mclean Office 2019
– Real Estate Investor
Personal
– Originally from Buffalo, NY
– NoVa resident since 1985
– Currently reside in Reston, VA
– Past Resident of Arlington, Alexandria, & Loudoun County
– Father of five daughters
Professional Credentials & Associations
– Licensed Realtor- Virginia 2001
– Licensed Associate Broker– Virginia 2006
– Member National Association of Realtors
– Member Northern Virginia Association of Realtors
– Graduate Weichert Management Awareness Program
– Office Lead Mentor & Lead Network Member

Dave is local to the Reston area and has a lot of knowledge of the region. He is professional and honest. He's talked to us like normal people, not in a fake, sales person way like some realtors. He told us when he didn't think we should buy a house and gave us the reasons why rather than trying to talk us into something that we'd later regret even though it made more work for him because he had to show us more homes. We really appreciated his honesty and his knowledgeable approach to evaluating the homes we looked at. He was there every step of the way including for the entire home inspection. Overall I'd say he's honest, friendly, professional, and experienced.
Katie
Dave made the 1st time home buying experience a breeze. From day 1 he was transparent with the process and sure to answer all my questions. His attention to detail was greatly appreciated for someone who had little knowledge about buying a home. Dave is extremely knowledgeable, flexible, and easy to work with. I strongly recommend him to anyone looking for a top notch realtor in the area.
Maureen S

We have had a wonderful experience with Dave. He is very knowledgeable and takes his time to make sure everything is done well. The pictures and advertisement of our house were spectacular. This was our second time of him being our agent and would strongly recommend his services.
Bara

This was the second time we have used Agent Dave and we came back because of how good of an experience we had the first time. He helped us properly price our townhouse to generate huge interest, we ended up having over 20 showings in the first 24 hours and receiving 5 offers (4 of them over asking) on the opening weekend. In two buys and one sell with Agent Dave he has gotten us sold and our offers on new houses accepted within one day every single time. There is no other agent I would consider beyond Dave Swartzbaugh.
Matt A.

Working with Dave was a pleasure, and my townhouse sold within just a few days for full price, no contingencies. He was realistic, thoughtful, and very helpful in the preparation of my home for listing, using his range of experiences to help me make the house look as good as it could look without spending unnecessary money. He suggested small changes that had big impacts on the overall appearance of the home, while recognizing that I was still living in the house. His marketing strategy was superb, as my open house was attended by far more people than any in the townhouse complex, and resulted in a quick sale.
Fern

We really enjoyed working with Dave. He was extremely patient, provided us with very sound advice and was just fun to work with. No pressure, easy to call and work with. I highly recommend him.
Amy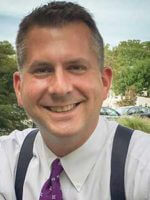 Dave Swartzbaugh
Associate Broker, Realtor®
Office: 703-760-8880
Cell: 703-655-8441
1313 Dolley Madison Blvd.
Mc Lean, VA 22101